Aktivitas Antibakteri Senyawa Metabolit Sekunder Dalam Ekstrak Etanol Gubal Tanaman Gaharu (Gyrinops Versteegii(Gilg) Domke)
Nia Silvia Sukma

Institut Pertanian Intan Yogyakarta,
Keywords:
ethanol extract sapwood Gyrinops versteegii (Gilg) Domke, antibacterial activity, secondary metabolite
Abstract
Lombok Island has successfully cultivated gaharu plants from the Gyrinops versteegii (Gilg) Domke species. However, sapwood from this plant has not been optimally utilized due to lack of information about secondary metabolites contained in gaharu pig Gyrinops versteegii (Gilg) Domke. Through chemotaxonomy approach it is assumed that gaharu ethanol extract contains secondary metabolite compound with antibacterial bioactivity. The purpose of this study was to determine the secondary metabolite group in the extract of gaharu ethanol and determine the antibacterial activity of the secondary metabolites it contained.Analysis of secondary metabolite content using qualitative tests of terpenoid compounds, flavonoids, saponins, tannins, and alkaloids. Furthermore, sulfur ethanol extract was fractionated by using column chromatography to obtain pure fraction and compound. Antibacterial testing was performed on gaharu ethanol extract of Gyrinops versteegii (Gilg).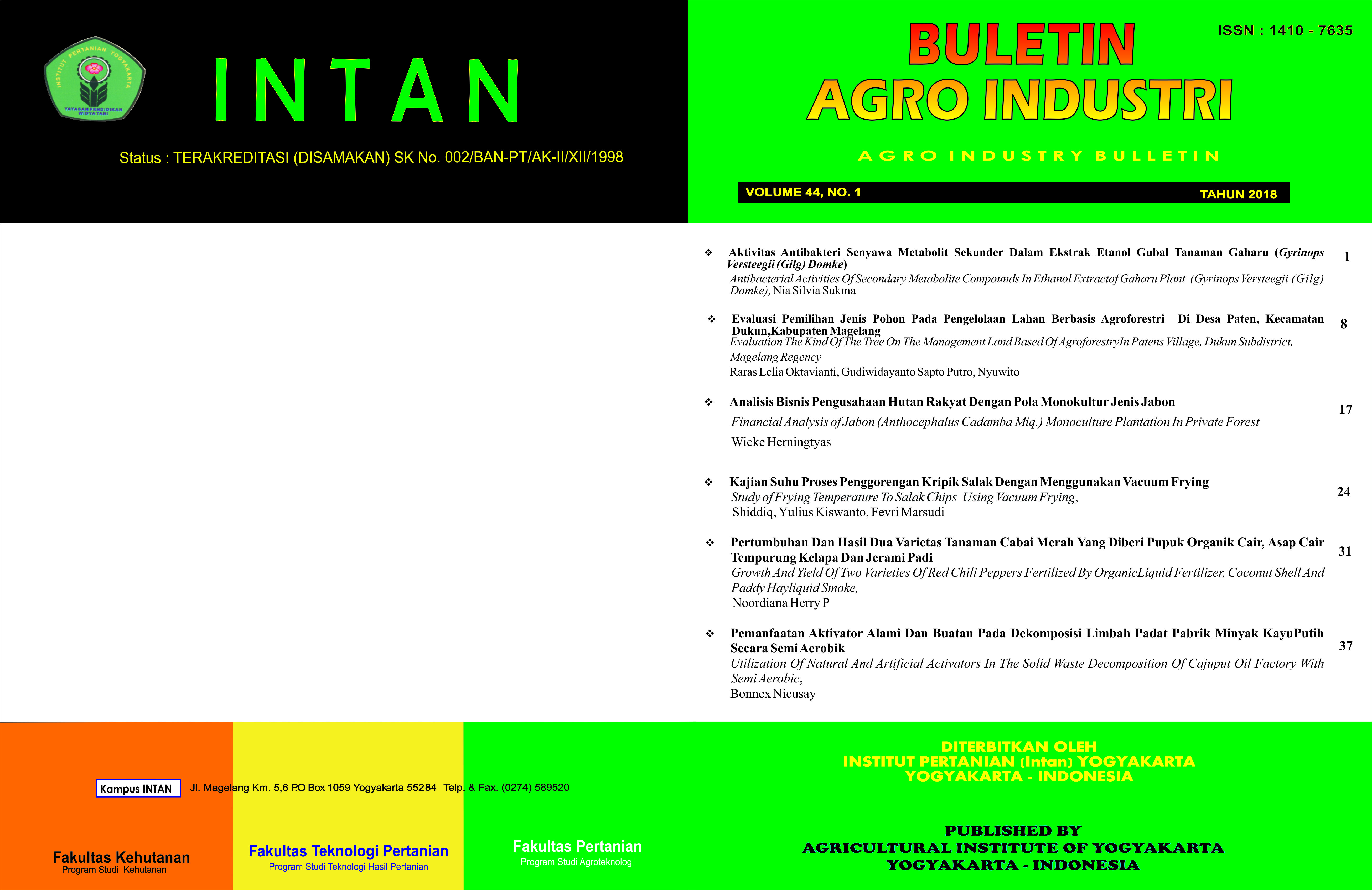 Copyright Notice
Authors who publish with this journal agree to the following terms:
Authors retain copyright and grant the journal right of first publication with the work simultaneously licensed under a Creative Commons Attribution License that allows others to share the work with an acknowledgement of the work's authorship and initial publication in this journal.
Authors are able to enter into separate, additional contractual arrangements for the non-exclusive distribution of the journal's published version of the work (e.g., post it to an institutional repository or publish it in a book), with an acknowledgement of its initial publication in this journal.
Authors are permitted and encouraged to post their work online (e.g., in institutional repositories or on their website) prior to and during the submission process, as it can lead to productive exchanges, as well as earlier and greater citation of published work
Every submitted manuscript should be accompanied by "Copyright Transfer Agreement", "Ethical Statement", and "Authorship Agreement"